The classic managed futures strategy by FTC, continuously developed since 1994, as an Alternative Investment Fund compliant with the AIFM directive of the EU. The fund is domiciled in Luxembourg and dedicated to improve the risk/return characteristics of traditional portfolios of stocks and bonds.



FTC Futures Fund Classic: Performance
FTC Futures Fund Classic (B EUR)
FTC Futures Fund Classic (B EUR)
FTC Futures Fund Classic (B USD)
Past performance is not a reliable indicator of a fund's future performance. Performance figures are calculated according to the OeKB method and include fees for management and administration. One-time front-end load of up to 4.5% and any individual transaction-related or ongoing costs (e.g. account and custody fees) are not included in the presentation. Information on the performance of the common class EUR B is based on the performance of the fund as of May 1998 and prior to the start of the fund on that of the Classic Strategy (1.1.1995-30.4.1998), a predecessor product with similar characteristics.
---
FTC Futures Fund Classic may invest a significant share of its assets in exchange traded futures, demand deposits and term deposits with a maturity of 12 months or less.
According to §48 (7) Z.9 AIFMG it is pointed out the particular risk associated with this investment.
---
FTC FUTURES FUND CLASSIC:PDF documents
Managed Futures as an Asset Class
Managed futures, also known as CTAs (Commodity Trading Advisers), are alternative investment funds that emerged in the 1980s at the US commodity futures exchanges. The first managed futures funds, like the majority of successful managers today, had a distinct profile: systematic, trend-following with a strong focus on risk management.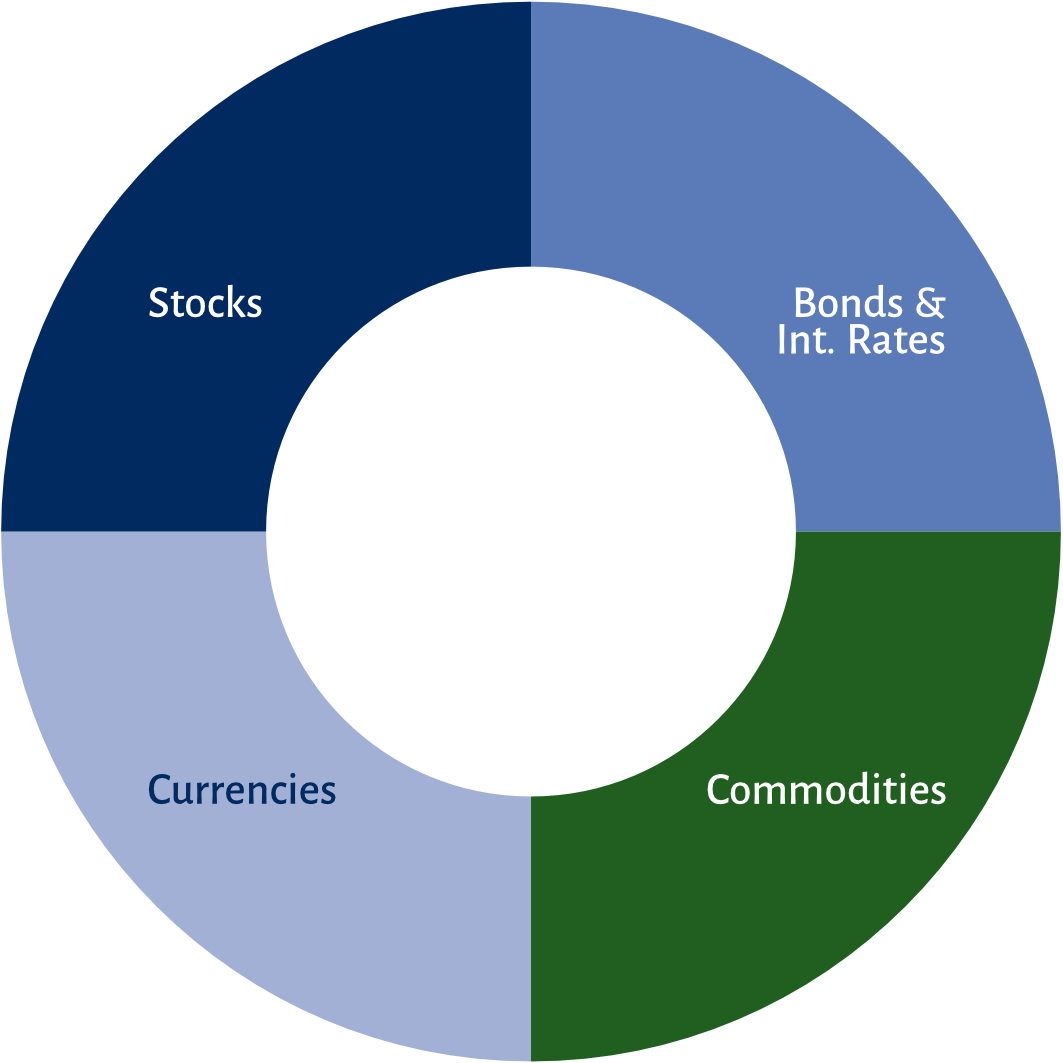 Systematic …
… because investment decisions are strictly rule-based.
Trend-following …
… means that trading positions are always opened in the direction of an already established price trend. CTAs do not try to anticipate market developments, but bet on the fact that an established trend probably continues rather than reverses.
Risk management …
… is an indispensable and central component of any managed futures strategy, because unlike equities and bonds, one cannot simply buy, hold and wait when trading futures contracts. That's why CTAs spend significant ressources to keep risk at a manageable level at all times. This is achieved, among other things, by broadly diversifying trading positions in a wide range of markets and by adjusting position sizes to the current market volatility.
MANAGED FUTURES: Natural protection against market crises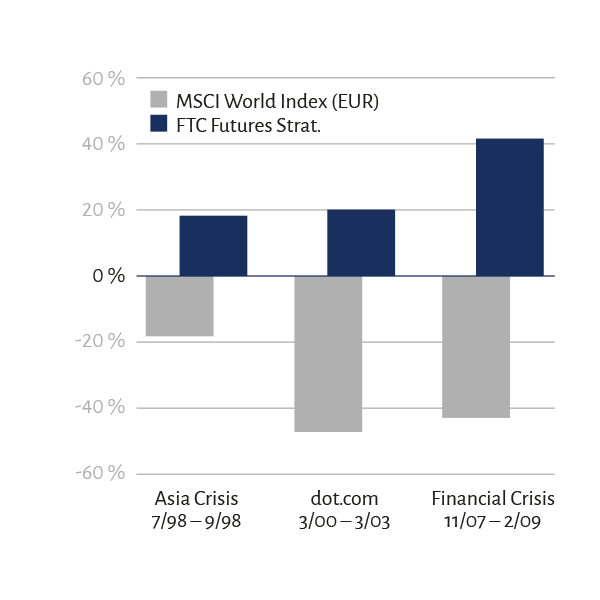 Profits while markets crash
Whether during the Asian crisis of 1998, the bursting of the Internet stock bubble in the early 2000s, or the global financial crisis that began in 2007 with the collapse of the US mortgage securitisation market: When stock markets crashed, managed futures constantly generated record high returns.
Why this works
Managed futures were historically so reliable as a portfolio insurance, because market behavior in major crises were similar. Financial experts call it the "risk-off" mode, in which the majority of market participants avoid risk assets - equities, industrial commodities and non-dollar currencies - and flee to the so-called "safe havens" - government bonds with first-class credit ratings, gold and the US dollar. This herd behavior generates strong trends across almost all markets which can be perfectly exploited by trend-following managed futures, as all those asset classes are traded on modern futures exchanges and futures can benefit from both rising and falling prices.
Legal Disclaimer
The contents of this web site are marketing communication. They shall be used exclusively for information purposes and represent neither by Austrian nor by foreign financial market law a solicitation, an offer or an acceptance for the conclusion of a business transaction or any other form of legal act, in particular an investment, and should not influence any such decision. No investment should be made without consultation. The contents must not be interpreted as financial consulting, legal advice or tax consulting. FTC Capital GmbH has provided all information with the highest possible care, using only sources deemed to be reliable. Nevertheless, FTC Capital GmbH accepts no liability for the accuracy, integrity, actuality or ongoing availability of the information provided on FTC's website.
FTC Capital GmbH accepts no liability for loss or damage, including lost profit or any other direct or consequential damages, arising from the use of or reliance on the information provided on this website. Publishing of information contained therein is prohibited.
Future investors should make use of adequate investment consulting and should acquaint themselves with the applicable legal bases, exchange supervisory authority laws and taxes in their home country or country of residence. In any case, current legal fund documents (offering memorandum, annual reports, semi-annual reports, etc.) should be studied carefully. All fund-specific documents can be ordered free of charge from FTC Capital GmbH, Seidlgasse 36/3, A-1030 Vienna, and from the respective agent (representative) in countries where the funds are registered for public distribution. On request we will announce further institutions which provide fund specific documents as well as the date of the last publication of the offering memorandum in Austria or in jurisdictions in which the funds are authorised for public distribution.
Authorisation for public distribution:
FTC Gideon I: Austria, Germany
FTC Futures Fund Classic: Austria, Luxembourg; in particular public distribution is not allowed in Germany or Switzerland
Smart Volatility Plus: Austria, Germany
Information for the USA:
Investment products and information mentioned on the following pages are not intended for distribution in the US.
Therefore, they do not apply to US residents according to Rule 902, Regulation S, Securities Act 1933 (in particular American citizens or persons permanently resident in the US).
Information for Germany:
Investment product FTC Futures Fund Classic and information mentioned on the following pages in regard thereof are not intended for public distribution in Germany. In this respect the website does not address to citizens of Germany.
Information for Switzerland:
Investment products and information mentioned on the following pages in regard to FTC Futures Fund Classic and FTC Gideon I are not intended for public distribution in Switzerland. In this respect the website does not address to citizens of Switzerland.
Risk disclaimer
Every investment involves risks. Fund prices may rise or fall. Performance data refer to the past.
Past performance is no reliable indicator for future results.
In particular, capital preservation cannot be guaranteed.
Investments in foreign currencies are subject to exchange rate fluctuations and currency risks, which means that the performance of such investments also depends on the volatility of the foreign currency, which can have a negative influence on the capital invested.
Futures Funds: Investments in futures funds can be very profitable, but they can also involve considerable risks that do not, or at least not to the same extent, occur with traditional investment categories and which can lead to a considerable loss, or at worst, the total loss of the investment. Therefore, investors must be prepared and able to accept a complete loss. When purchasing shares in futures funds, a longer-term holding period should be intended with the primary purpose of adding such funds to an existing diversified portfolio.
For FTC Futures Fund Classic and FTC Gideon I this website contains further legal and risk information by using the link "legal remarks" within the respective product menu.